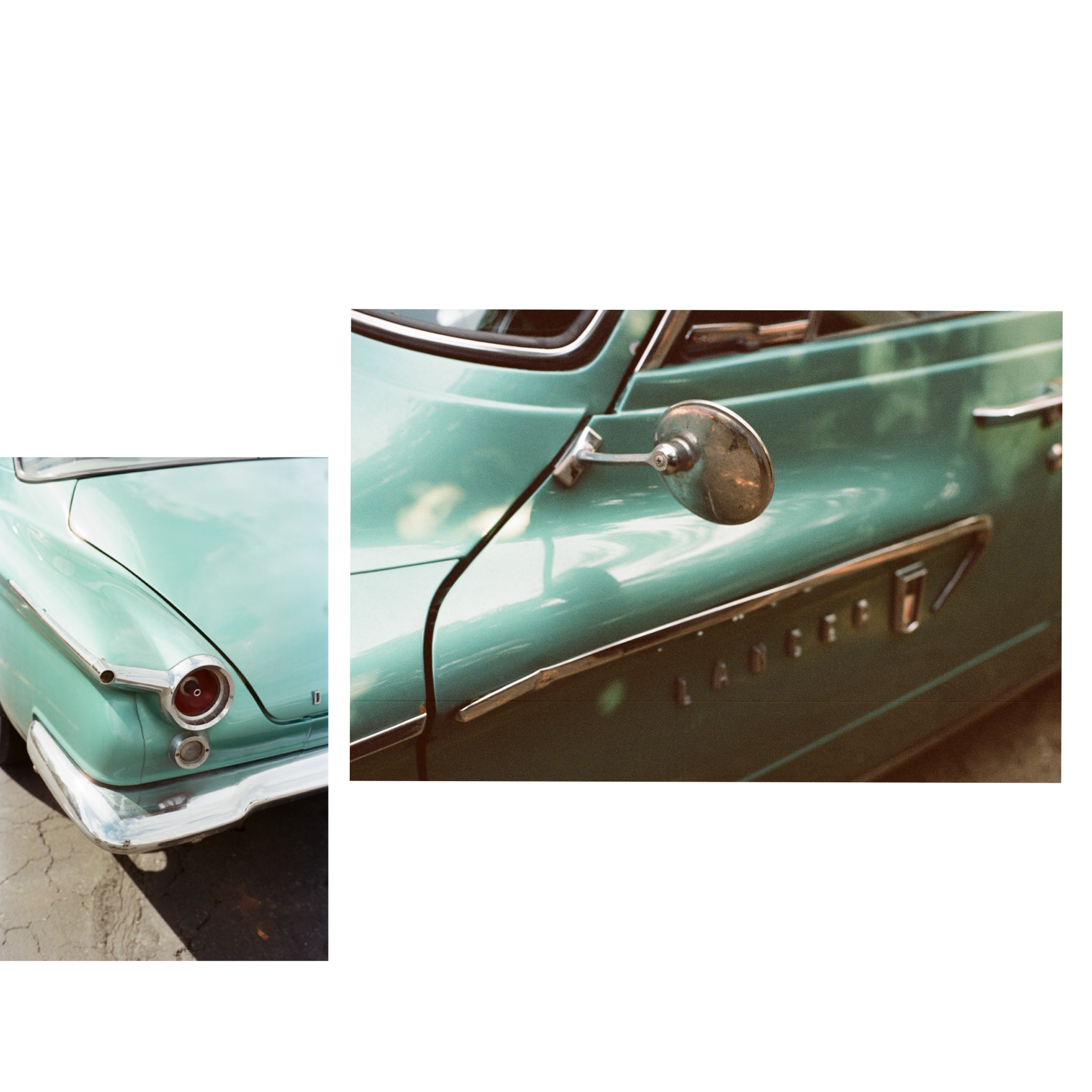 Daily, it seems, I'm asked how I obtained such an odd machine. I drive a 1961 Dodge Lancer by the name of Ol' Frank. He's painted the same teal as when originally manufactured, has the original slant-six with a push-button transmission and has only 83,000 original miles.
I've been driving Ol' Frank since 2009, and, blessed with the curiosity of others, have been able to tell his story more times than I can remember.
In the 1980s, my grandparents owned a gas station on Clyde Hill in Seattle. It was a family operation, employing my dad and uncles during their high school and early college years. The three of them worked at both the gas station and the attached mechanic's shop.
My grandmother kept the books while my grandfather conducted business. They treated everyone with kindness, which built them a foundation of returning faces, including some well-known figures like Bill Gates and Ken Griffey Jr.
Along with everything else, my grandpa always made it priority to take care of the elderly women that came to the station. He would have my dad and uncles make sure their oil was always full, that their tires always had are in it and their windows were always clean. If they had any other mechanical problems, he would usually fix their cars at discounted rates.
One afternoon, a young man came into the station and asked to speak with my grandpa. He pulled my grandpa aside and told him that his mother had been one of his loyal customers. The young man ultimately informed him that she had passed away, and being that my grandpa, dad, and uncles had taken care of her and her car, she willed the 1961 Dodge Lancer, to my grandpa. My grandfather, feeling the weight of her kindness, accepted the car without having any real use for it, so it remained parked at the gas station.
Almost a year later, another returning customer, Louise West, pulled into the pumps to fill up her 1970s Maverick. After filling up, Mrs. West went to start her car, but the engine wouldn't turn over. My grandpa and dad inspected the engine and found that the pistons had blown out. They told her what they had found and that fixing it would be equivalent to buying a new car.
She was dumbfounded and at a loss for what to do, knowing that she had no other form of transportation. Starting to cry, she told my grandpa she and her husband were on their way to a nursing home, because her husband had Alzheimer's and she finally came to terms that she needed help. She had recently found out that she had cancer, and on top of that they had a son who was cognitively delayed and needed her care too.
My grandpa, having the Lancer at the time, traded her for her Maverick. She was beyond grateful and wanted to give it back after she was finished taking her husband to the nursing home. My grandpa wouldn't hear of it and told her to keep the car, so she did.
Aside from business, and from working on cars, my dad and uncles eventually met and fell in love with their wives at the station. Whenever my family and I tell stories, we always refer to the spot on Clyde Hill as "The Station of Love."
A few years passed, and business at "The Station of Love" continued. My mom and dad became pregnant and nine months later had me, shortly after my sister was also born.
Meanwhile, the area around Clyde Hill had begun to change and the gas station was frequently being broken into. My grandpa was uneasy about the break-ins and began to want a safer environment for his family, especially since my sister and I were so young. He and my grandma weighed their options and decided it was time to sell the gas station.
Contemplating their direction, my grandparents decided they wanted to start farming, even though it was an endeavor they had never encountered before. My grandparents began visiting farms and ranches across the country, eventually settling on a 2,000-acre plot near the badlands of Eastern Montana. My dad, mom, uncle and aunt, along with my sister and I, followed my grandparents out to Terry, Montana, where the farm began to grow and operate, producing crops including wheat, sugar beets and alfalfa.
A year into living on the farm, my grandpa received a phone call from Mrs. West. She told him, sadly, that she was nearing the end of her life and that she wanted the car he had given to her to find its way back to him. He struggled with the notion and told her that the car belonged to her. But Mrs. West, knowing that she had little time left, insisted he take it back. He reluctantly agreed, and my Uncle Scott, who had stayed in the Seattle area, drove the Lancer to the farm, where it sat parked along with a collection of other classic cars that my grandpa had amassed over time.
Despite the risk of starting the operation, the farm prospered and my family continued life in Eastern Montana. My mom and dad, however, eventually decided that they needed more than secluded rural life, so when I was 8 we moved from Terry to Billings, where we've collectively stayed since.
As we grew up, though, my siblings and I spent all of our summers in Terry, working alongside our cousins and enjoying the company of my grandparents and each other. Summers on the farm were full of hard work and long hours, but each day was rewarding, teaching me lessons I will never forget.
One summer, when I was 15, my grandpa pulled me aside and showed me the Lancer he had kept for so many years. I was intrigued and fascinated by the machine, as well as by the story my grandpa shared about the gas station where my family began, and how the car had found its way to him twice, eventually coming to rest at the farm. He finished telling the story with a proposal, stating that if I worked on and restored the car with him I could have it as my own.
My eyes lit up, and I excitedly agreed to the proposition. The Lancer at this time had 36,000 original miles, seats that had been destroyed by dry rot, an engine needing to be rebuilt, and a paint job that was lackluster and needed to be redone. So, after our days of farm work, my cousins, siblings, uncle, grandpa and I started rebuilding the car together, working on it day in and day out for almost a month.
I watched the Lancer slowly come to life as we sanded the car's body, redid the seats and pieced together the engine with working parts. My family and I worked diligently until the project came to a close, and the car was finished.
I am blessed in having a first and only car that has affected me so immensely, and I will always be grateful for the way it has changed the course of my life. Mechanical break downs, become practices in patience, as well as empowering moments that have allowed me to work on problems myself. Traveling, whether that be to Mexico or my daily commute, becomes an opportunity for documentation, and a reminder to be present. Mostly though, strangers, through their curiosity and willingness to hear a long story, become friends, which has blessed me and always reminds me that stories, in any way they find you, are powerful and are meant to be told, retold, and shared, because that's what binds us and ties us all together.